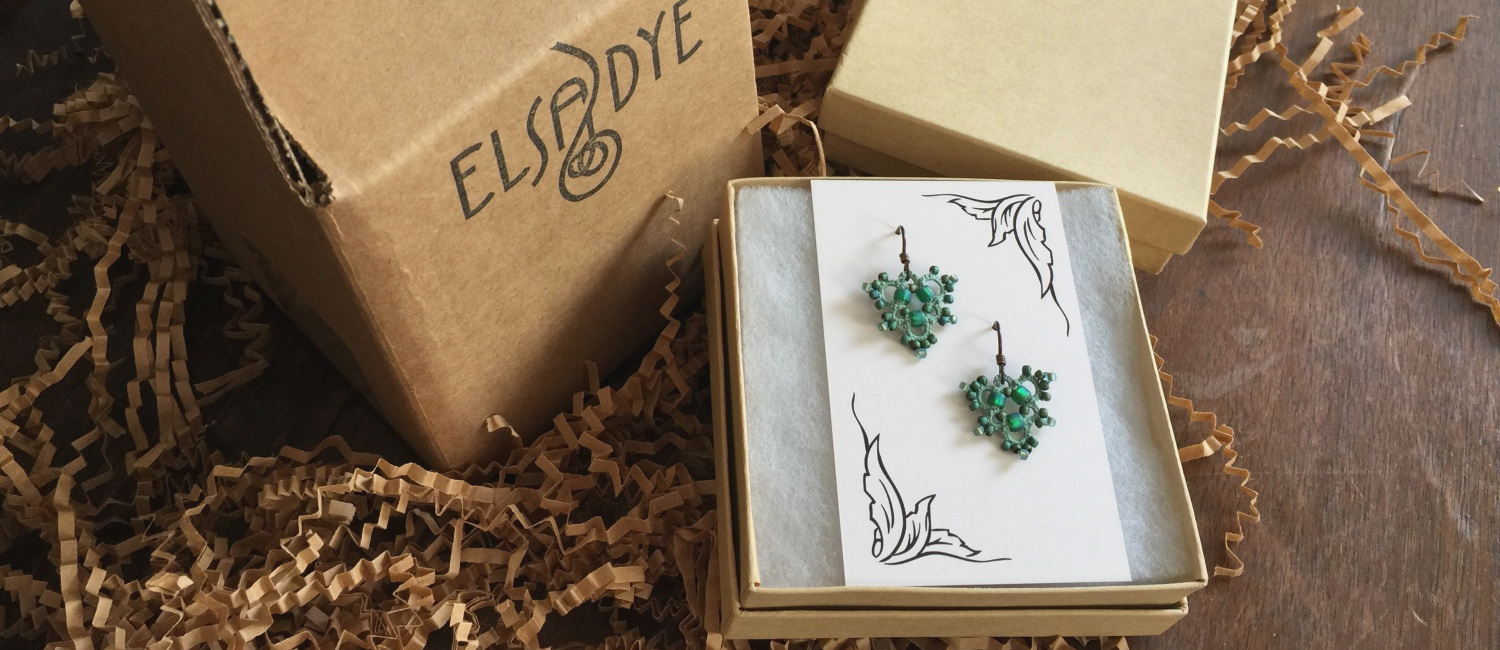 Packaging
All jewelry comes in an attractive paper box, which is then packed and shipped inside of a protective cardboard box. I try to keep my packaging as recyclable as possible, and I encourage you to reuse or recycle.
Shipping
I ship orders on business days during normal work hours. Orders containing only cut tin jewelry will ship within 1-2 business days. Tatted items are often made to order, so allow 2-3 business days. In the rare instance of a delay I will contact you via email.
There is a flat shipping charge of $5.00 per order, to ship within the United States via USPS First Class mail. If you need express shipping please contact me for a price quote.
International
If you need international shipping please contact me for a price quote.
I do not accept any responsibility for customs costs or customs-related problems that may arise from international orders. Please be sure to research your country's customs laws before purchasing.
Payment
I accept payment at checkout by debit card, credit card, or via PayPal.
Returns
If you are unhappy with your order for any reason, please contact me. I want to help work out any issues that may arise.
I have a 14 day full refund policy for return of goods. Contact me within 14 days of receiving your order and I will issue you you a refund upon my receipt of the item in its original condition. Please note: refund is good for the purchase price only, and does not include any shipping charges.
If an item has been damaged during shipping, please email a photo of the damaged item, and I will exchange it at no cost to you.
Missing Items
If an item has been shipped to you, but does not arrive within the expected time frame, please contact me so that I can try to help locate it. I will not consider a shipment lost until 30 days after the expected arrival date. If it has not arrived by that time I will replace it at no cost to you.
Gift Certificates
Unsure of which design to pick? Let them choose with a gift certificate!
Gift certificates come in the form of greeting cards that are physically mailed to you or the person to whom you are giving the certificate. They do not expire. Please allow 1-2 business days for processing. There is no shipping charge for certificates, and you will be notified by email when they have shipped.
Redeeming certificates: Each certificate contains a unique code which is to be entered in the Discount Code field at checkout. You will need to enter a billing address in the payment field at checkout, but do not need to enter a card number unless your order is larger than the amount of the certificate. If the entire amount of the certificate is not used up in one purchase, a NEW code which is good for the remaining amount will be emailed to the person who has redeemed the certificate.
If you have any questions about gift certificates, please contact me. I'm here to help!
Variation
Because all of my jewelry is made by hand, there will be slight variations from piece to piece. This is part of the beauty of handmade jewelry.
I try to represent my work as accurately as possible in my photographs and descriptions, but please be aware that colors may appear differently on different devices and monitors. If you have questions or concerns about this, please contact me. I am happy to help!
Care of Jewelry
Treat this jewelry as you would other fine jewelry by storing it in a clean, dry place and avoiding moisture.
Tatted pieces are 100% cotton and are starched to hold their shape. If necessary, spot clean gently with a damp cotton swab. Try to lift dirt off of the surface of the tatting, rather than soaking it. Lay flat to until completely dry.
Tin pieces can also be cleaned with a damp cotton swab if needed. Be sure to dry promptly and thoroughly to avoid rust. Do not use alcohol or solvents as they may damage the decoration.
Original Designs
Please respect my intellectual property. All jewelry pieces displayed and sold on this site are my original designs. All rights reserved. This jewelry may not be reproduced without my express written permission.
Feel free to contact me with any inquiries.
.Copyright
All artwork and photos displayed on this site are copyright Elsa Dye and/or Tony Morgan. All rights reserved. The artwork and photos may not be reproduced or used in any manner whatsoever without the express written permission of the artist. Social media sharing is fine, I would just ask to be credited. Feel free to contact me with any inquiries.